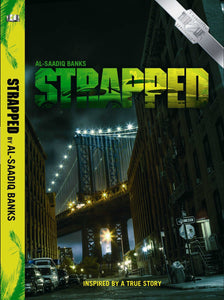 Al-Saadiq Banks
Strapped
Regular price
$14.95
$0.00
Unit price
per
Product Title: Strapped the Novel
Strapped is a gripping tale of Amber Jones, also known as Lil Bit, who was born into a life of adversity. Her childhood was marked by verbal, physical, and sexual abuse, which built a wall around her heart. The death of her mother left her without guidance, forcing her to navigate life as best she could.
Her life takes a turn when she meets Maurice, a powerful Kingpin and leader of a drug organization. He teaches her the code of the streets, loyalty, honor, morals, and principles, and most importantly, the meaning of love. However, their love is complicated by his jealous and controlling demeanor, and the fact that he is a married man.
As she grows tired of being one of his many women, a man who truly loves her enters her life. She finds herself at a crossroads, torn between unconditional love and the love of money. A decision made in the name of love could jeopardize her luxurious lifestyle and even her life.
Pages: 398
Price: $14.95
We ship books to prisons nationwide for our readers behind bars.
---