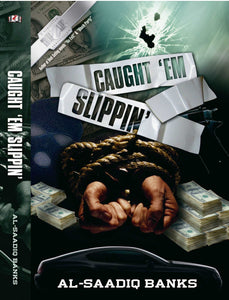 Al-Saadiq Banks
Caught Em Slippin
Regular price
$14.95
$0.00
Unit price
per
Product Title: Caught Em Slippin
Description: Dive into the thrilling world of Miranda Benderas, the daughter of a notorious Cuban Kingpin and a stunning African American supermodel. Raised amidst opulence and crime, Miranda's life takes a drastic turn when her father is sentenced to life imprisonment.
At the tender age of 16, she finds herself entangled with Philadelphia's bad boy, Sha-Rock. Their tumultuous relationship transforms Miranda from a delicate flower into a resilient weed. When Sha-Rock returns from prison, he finds the game has changed. His only hope to reclaim his position lies with Miranda. But how far will she go to prove her loyalty? This book is sex, money, robbery, murder and and a love story gone bad.  
We ship books to prisons nationwide for our readers behind bars.
---