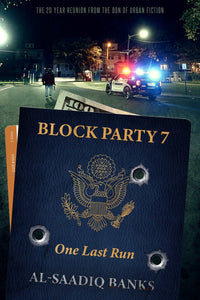 Al-Saadiq Banks
Block Party 7
Regular price
$20.00
$0.00
Unit price
per
Block Party 7 is a gripping narrative centered around Tony Austin, the most compelling attorney of the 21st century. Known as the Dapper Don of attorneys, Austin's craftiness and work ethic have made him a media sensation. His uncanny ability to make even the most wicked criminals, drug-kingpins, gang members and cold blooded murderers, appear innocent has earned him a reputation as a magician in the courtroom.
Austin is relentless in his pursuit of justice for his clients, often blurring the line between ethical and unethical. He has gone toe-to-toe with the Government and the Judicial system, always managing to stay one step ahead. No challenge is too great for him, whether it's a minor obstacle or a seemingly insurmountable mountain.
However, Austin now faces his toughest battle yet - retaining his own freedom. After declaring war against the United States of America, he finds himself in the crosshairs of the Feds. They are attempting to tie him into the criminal enterprises of his former clients, threatening not only his freedom but also the lives of innocent people close to him.  Piece by piece, they put a puzzle together that has Attorney Tony Austin down as the ring leader.  To further support their case, they have criminals who have been given scripts to memorize, pointing at Tony as their ring leader.  In exchange for their cooperation, those criminals have been promised freedom and leniency.  
As the Block Party 20-year reunion unfolds, Austin must use all his skills and cunning to save himself and those affected by his actions. Will he be able to work his magic one more time, or will his winning streak end with him behind bars like a criminal? The Block Party 7 is a thrilling ride that will keep you on the edge of your seat.
We ship books to prisons nationwide for our readers behind bars.
---