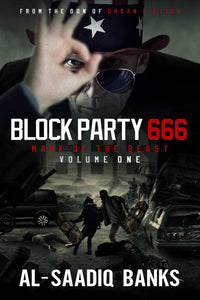 Al-Saadiq Banks
Block Party 666 Volume 1
Regular price
$14.95
$0.00
Unit price
per
Block Party 666 Volume 1 is a gripping tale that follows the life of Attorney Tony Austin. On the brink of retirement, Tony is faced with three major cases that could either make or break his career. With his legendary flair, he rises to the challenge, risking everything to secure his legacy.
Parallel to Tony's story, a hundred miles away in Trenton, we meet Helter and Skelter, twin sisters embroiled in their own drama. Raised by Black Charles Manson, Skelter has been given total control of their Trenton Blood gang sector. However, with the Block Party dope stamp now non-existent, so is their cash flow. That is until Skelter pulls off a major heist, unknowingly stealing from a powerful cartel and triggering a city-wide manhunt.
The city of Trenton becomes a battlefield, with Skelter at the center of a bloody war. Despite the unprecedented violence, she refuses to bow out and taint Black Manson's Blood line. She's ready to risk it all to uphold her lineage, knowing there are only two ways this war can end.
We ship books to prisons nationwide for our readers behind bars.
---