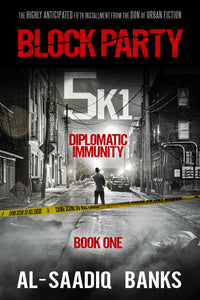 Al-Saadiq Banks
Block Party 5k1 Volume 1
Regular price
$14.95
$0.00
Unit price
per
Product Title: Block Party 5k1 Volume 1
Immerse yourself in the gripping world of crime, power, and vengeance with Block Party 5k1 Volume 1. This intense narrative is set in the harsh reality of Newark, revolving around the infamous Blood gang member, the Black Charles Manson, who is unexpectedly freed after serving only 15 years of a triple-life sentence.
Thanks to Attorney Tony Austin, Manson gets a second chance at life. However, his freedom comes with a heavy price. An attack on the Mayor, who is responsible for Manson's freedom, leaves Manson feeling guilty and seeking answers. He wants to know how this attack was possible despite his efforts to protect the Mayor.
Unbeknownst to Manson, the hit came from the inside. If he discovers this, it could lead to the biggest bloodbath of the century. Will he ever find out? Or will he be the next target? Block Party 5k1 Volume 1 offers 298 pages of captivating storytelling that will keep you on the edge of your seat. 
We ship books to prisons nationwide for our readers behind bars.
---