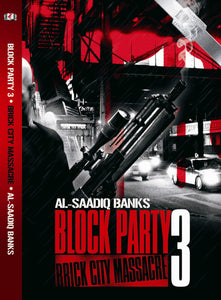 Al-Saadiq Banks
Block Party 3
Regular price
$14.95
$0.00
Unit price
per
Product Title: Block Party 3
Immerse yourself in the gripping narrative of Block Party 3. This thrilling tale revolves around The Mayor, Newark's notorious kingpin, who manages to push his Block Party dope stamp nationally, even from behind bars. The Block Party dope stamp travels through the prison system, infiltrating city by city, state by state, from county jails to federal prisons.
Despite being in Federal Prison, The Mayor still holds control over the streets, using his older brother, Dre, as his representative in the outside world. With the assistance of two seasoned old-heads, Dre attempts to distribute the Block Party dope stamp not just in Newark, but in any city where he can find a lead.
The story also highlights the struggle of three old timers trying to navigate through a city overrun by young gang members.  The stark contrast between the old and new generation creates a tense atmosphere. The old timers are at a loss to understand the younger generation's code and lingo, finding themselves in the midst of wars they can't possibly win, yet their egos tell them otherwise.
This true-to-life fable spans 368 pages of suspenseful narrative that will keep you on the edge of your seat. Dive into the world of Block Party 3 and experience the thrill of this captivating story.
We ship books to prisons nationwide for our readers behind bars.
---