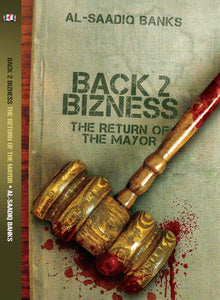 Al-Saadiq Banks
Back 2 Bizness(Block Party 4)
Regular price
$14.95
$0.00
Unit price
per
Introducing `Back 2 Bizness(Block Party 4)`, a riveting narrative that takes you deep into the life of Brick City`s notorious drug lord, known as the Mayor. After serving 12 long summers in prison, the Mayor is granted freedom, thanks to his skilled lawyer, Tony Austin.
Now back on the streets, the Mayor is determined to reclaim his status as Newark's Poster Boy, Kingpin. He is convinced that he is the missing piece in the game. With the streets in a dire state, the Mayor believes his Block Party dope stamp is the only solution to revive the game.
An older figure, non-gang-banger in a city full of gang members, the Mayor feels like a stranger in his own city but thanks to an old rival, Black Charles Manson, the Mayor is not all alone. A prior altercation in prison had Black Charles Manson and Newark's infamous Mayor on opposite sides of the battlefield.
Two stubborn egotistical sociopaths bumped heads and neither of them bowed out. It was their gangsterism and code of honor that led them on the same side. The Mayor took Black Charles Manson in like a younger brother. His love and respect caused him to spend hundreds of thousands of dollars on legal fees for Black Charles Manson's appeal.
In return, Manson offers the Mayor control of his formidable army of soldiers. His gang influence stretches from Newark to Florida, with Blood gang members ready to respond to any call and demand. The Mayor has the most infamous dope stamp, with the purest form of heroin across the country and Blood gang members that also stretch across the country.
Is that a recipe for wealth or disaster? Will he survive in a city controlled by gangs?  This gripping tale will keep you on the edge of your seat as you explore the harsh realities of Newark, Brick City. 
We ship books to prisons nationwide for our readers behind bars.
---