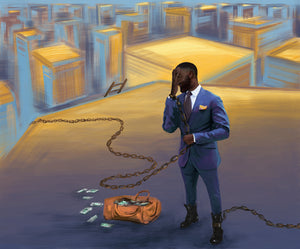 Al-Saadiq Banks
Tony Austin Collection Inspired by AL-Saadiq Banks "What's Free"
Regular price
$300.00
$0.00
Unit price
per
This piece is titled "What's Free"

Synopsis: Distraught is the man who climbs the ladder of success, chasing 'The American Dream' only to get to the top and realize that he's still not free. The dream he has been chasing his entire life was never his own. The combat boots represent the war he's had to fight to get to the top. At the top, he realizes he still has more war to fight because even with all the money and success he's obtained, he's still NOT FREE.
The Original work is a digital painting by AL-Saadiq Banks himself and a part of his own collection.  
Prints are available in Limited Edition 18x24 Giclee Edition, stretched on Lyve canvas, signed, numbered and hand embellished by AL-Saadiq Banks.
Limited Edition of 30 
---