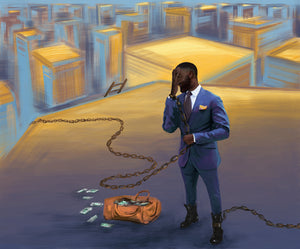 Al-Saadiq Banks
Tony Austin Collection Inspired by AL-Saadiq Banks "What's Free"
Regular price
$300.00
$0.00
Unit price
per
Introducing the Tony Austin Collection, inspired by AL-Saadiq Banks' profound piece, 'What's Free'. This poignant digital painting encapsulates the struggle of a man in pursuit of the elusive 'American Dream'. The combat boots symbolize the relentless battles fought on the journey to success.
Upon reaching the pinnacle, he is met with the harsh realization that despite his wealth and accomplishments, he is still shackled, not truly free. This realization is a powerful commentary on the illusion of freedom in the pursuit of success.
The original artwork is a part of AL-Saadiq Banks' personal collection. Limited edition prints of this thought-provoking piece are available in 18x24 Giclee Edition, stretched on Lyve canvas. Each print is signed, numbered, and hand embellished by AL-Saadiq Banks himself, making it a unique addition to any art collection. Limited to an edition of 30, this piece is a must-have for any art enthusiast.
---