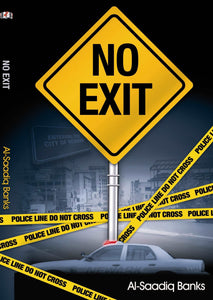 Al-Saadiq Banks
No Exit
Regular price
$14.95
$0.00
Unit price
per
No Exit is a gripping tale of three young men from the same neighborhood, each with different dreams and aspirations. Despite their similar upbringings, they find themselves entangled in the drug game, climbing the ladder of success, only to face increasing obstacles as they ascend.
The allure of fast cars, fast women, and tax-free money draws them in, but they soon realize that there are indeed taxes to be paid - in the form of murder and lifelong jail terms. Are they ready to pay the price?
The story takes a dramatic turn with Tony Austin, a bright schoolboy with a promising future, who makes a wrong turn that leads him onto a path of wrong turns. He quickly surpasses his friends who had earlier plunged into the streets. With jealousy, they watch as he climbs the ladder of success.
Despite the clear warning signs, Tony doesn't heed them. Just when he's about to change his course, he hits a dead-end, realizing that there may truly be No Exit. This captivating story, spans 226 pages of suspense and life lessons.
We ship books to prisons nationwide for our readers behind bars.
---