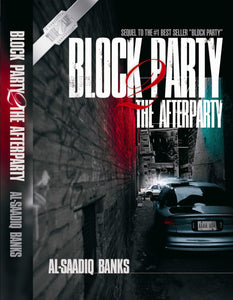 Al-Saadiq Banks
Block Party 2
Regular price
$14.95
$0.00
Unit price
per
Teenagers, Ahmir and Ahmad Pierson are the offspring of Newark's infamous ghetto legend Donald "Cashmere" Pierson. Ghetto fame and admiration have been a part of their lives for as far back as they both can remember, thanks to Cashmere. Cashmere's addiction to the fast life and the love for his two sons have always conflicted but the love his sons have for him has always been unconditional. Nothing in the world means more to them than their father whom they've always held on a pedestal.
Ahmir and Ahmad's lives changed drastically after they both witnessed a horrifying act that they'll never forget.  Like night and day, the two brothers are totally different and the traumatic experience affected them differently.  The old cliche' is true "for every action there is an opposite, but equal reaction."  Ahmir, who turns to the Blood gang is looking for love in all the wrong places.  He takes his anger and frustrations out on rival gang members as well as anyone else who gets in his way.  He's eagerly on a quest to make a name for himself equal to the name and reputation that his father, Cashmere holds. 
What becomes of two traumatized teens whose hearts are filled with vengeance? What does their future hold for them? Or will that same vengeance destroy their future?

Paperback Edition: 370 Pages 
Date of Publication: 2006
We ship books to prisons nationwide for our readers behind bars.
---