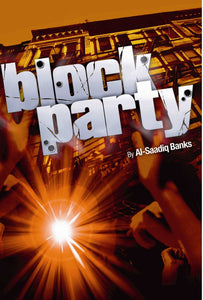 Al-Saadiq Banks
Block Party
Regular price
$14.95
$0.00
Unit price
per
'Block Party', is the dope in urban fiction. This gripping narrative revolves around the protagonist, Cashmere, a man fresh out of Federal Prison, determined to reclaim his position in the streets. However, the young underlings he left back at home, have grown into men during his absence, Those young men refuse to accept his authority. Cashmere soon finds out that there's a new kingpin in control of the city.
The new ruler, known as The Mayor, is ten years younger than Cashmere and rules the city with an iron fist. The Mayor, young, flashy and dangerous is loved by some, feared by many but respected by all.  He floods the city with his Block Party dope stamp, sold on street corners and blocks all over the city with no competition. The Mayor erases all of his competition and forces his dope onto dealers, making his brand the top and only brand. His motto is get down or lay down.
The story unfolds as Cashmere strives to regain his lost power and ascend to the top, where he believes he rightfully belongs. The story poses a compelling question - will Cashmere be able to reclaim his crown, or will he be forced to bow down to the new generation? This captivating story is sure to keep readers on the edge of their seats, eagerly turning pages to discover Cashmere's fate.
We ship books to prisons nationwide for our readers behind bars.
---